Mr. Jignesh Desai
(Chairman - Trustee Board)
In 1994, Mr. Jignesh Desai started as a co-founder and promoter of NJ India Invest Private Limited and was appointed as Jt. Managing Director of NJ India Invest Private Limited since 30th March 2000, the flagship company of the NJ Group.
Mr. Jignesh Desai has over 25 years of strategic management experience in the areas of securities market, financial products distribution, Securities Advisory, Financial Planning and Portfolio Management. He has been responsible for creating and maximizing the NJ Group businesses including Mutual Fund Distribution, Real Estate Advisory, Distribution and Marketing of Organic Food Products, Information Technology, Training and Education, Insurance Broking and Portfolio Management Services.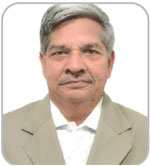 Mr. Devesh Pathak
(Independent Director)
Mr. Devesh Pathak is a commerce and law graduate and is a Fellow member of the Institute of Company Secretaries of India.
Mr. Devesh Pathak is sole proprietor of Devesh Pathak & Associates, Practising Company Secretaries, and a Registered Insolvency Professional.
He has about 37 years of experience in the field of advising and rendering professional services for corporate planning & corporate compliances including advising clients for compliance of the requirements of Companies Act, SEBI Act, Securities Contracts (Regulation) Act, RBI Act, Insolvency and Bankruptcy code, Trade Marks Act etc. He has published various articles on professional and other subjects in Magazines, Newspapers etc. and has addressed at various Professionals and other forums.
He also acts as the Hon. Company Law advisors for Federation of Gujarat Industries, Vadodara.
Mr. Sundar Sankaran
(Independent Director)
Mr. Sundar Sankaran has over 33 years of experience. He held senior positions at Bajaj Auto and Kotak Mahindra before embarking on his entrepreneurial journey. He is an alumnus of IIM Ahmedabad (1986-88) and a qualified Company Secretary and Cost & Management Accountant.
An integrated perspective across people, organisation, strategy, finance, markets, economy and legislation is a unique strength of Mr. Sundar Sankaran. This has facilitated his multi-dimensional contribution to strategy consulting and investment banking clients for over three decades.
Mr. Sundar Sankaran has trained tens of thousands of industry professionals on various aspects of financial markets and their linkages to the economy, businesses, investment funds, wealth management and investors. His writing includes bestseller, Indian Mutual Funds Handbook [Vision Books, 2016 (5th ed)] and Wealth Engine [Vision Books, 2012].
Mr. Sundar Sankaran is Founder-Director of Advantage-India Consulting Pvt Ltd and Mavuca Capital Advisors Pvt Ltd.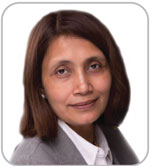 Ms. Mousumi Nandy Dhar
(Independent Director)
Ms. Mousumi Dhar holds management degree in marketing, B.Sc Certificate of Management Course in Entrepreneurship and Enhancing Sales Productivity in Financial Services, Manager of Managers(Leadership Programme),and a Diploma in System Management, Import and Export Management.
Ms. Mousumi Dhar has over 25 years of experience. She has worked with reputed companies and has been associated with some renowned brands in various industries in the field of Sales and Distribution, Product Management, Marketing and Communication.
Ms. Mousumi Dhar is the founder of Ahdityaa Corporates with brand goshopart as a hand designed market place with a social cause. It includes Work on Art exhibitions, Home décor, work with hospitality / hotel industry on internal décor designs and Exclusive corporate gifting opportunities. GoShopArt was started to create a platform to showcase Art that minds can conceive and designs can express.
Further, Ms. Mousumi Dhar is also the founder of the unique tech platform Gratefy. It has been launched in January 2021 and is in the business of making it easy for corporates to effectively build relationships with their stakeholders like clients or employees, thereby helping and supporting them in development and growth of their business.