Mr. Niraj Choksi
(Chairman - AMC Board)
Mr. Niraj Ravindra Choksi is the co-founder & promoter of the NJ Group, a diversified business Group, headquartered in Surat and has more than 26 years of rich experience in the financial services industry.
NJ Group has presence in businesses like Real Estate, Asset Management, PMS, Insurance Broking and Training. The Group is primarily engaged in the financial services industry wherein it has one of the largest networks of financial advisors in India. As the visionary founder of NJ Technologies, Mr. Niraj Choksi has been involved in providing guidance to and shaping the future of the technology business.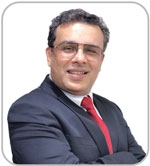 Mr. Rajiv Shastri
(Associate Director & CEO)
Mr. Shastri has 25 plus years of experience in the mutual fund space. A qualified Chartered Accountant who holds a master's degree in Economic Management & Policy from University of Strathclyde, Glasgow.
He was part of the founding team at HDFC, Lotus, Peerless & Essel Mutual Fund. Mr. Shastri was a Professor of Practice at the National institute of Securities Market and a columnist with ETPrime, Money Control and Business Standard.
Gen. Bikram Singh (retd.)
(Independent Director)
General Bikram Singh, the former Chief of the Indian Army (COAS) superannuated on 31 July 2014. During his military career of over 42 years, he held a number of key appointments both in India and overseas. Before taking over as the COAS, he commanded the Eastern Army that is responsible for the Chinese border and counter insurgency operations in the North-eastern States. He also commanded the prestigious Srinagar based 15 Corps that is responsible for the counter proxy war operations in the Kashmir Valley.
He has vast experience of operating in the international milieu. Besides one year at the USAWC, he served in three UN missions. Two in Central America (ONUCA & ONUSAL) and the third in Democratic Republic of Congo (MONUC). In MONUC, he commanded a multinational Division comprising over 12,500 personnel from 25 countries.
An eloquent speaker, he won the public speaking award at USAWC and was Army's spokesperson during the Kargil war. He has lectured on Geopolitical & Strategic Affairs, Leadership, Management and Strategy to both domestic and international audiences. He also writes columns on above subjects in domestic magazines and newspapers.
For his distinguished and dedicated services, the President of India awarded him with the PVSM, UYSM, AVSM, SM and VSM. The US Government awarded him 'Legion of Merit' in 2013.
Mr. Imtiyazahmed Peerzada
(Independent Director)
Mr. Imtiyazahmed Peerzada is a former officer of Indian Administrative Service (IAS) and has over 30 years of rich experience in handling administrative, financial and development activities of various government departments.
During his journey so far, Mr. Peerzada engaged himself in development, management and regulating various schools, colleges, institutions, rural villages, districts, infrastructure, textile, agriculture, irrigation, health, social welfare and has successfully transformed the life of millions of students and tribal population. He has depicted marvellous skills in handling the functions and activities of finance, budget, asset, revenue generation, HR, legal and governance for various government schemes and organisations.